Bigfoot! (Mysterious Monsters Book 1)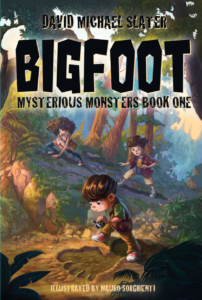 from 
Incorgnito Books
The Mattigan kids don't believe in things that go bump in the night. After all, their dad is famous for proving such things are impossible. But when their long-lost Grandpa Joe shows up with his Mysterious Monster journal begging for help, the siblings find themselves drawn into a search for Bigfoot. Along the way, they'll have to deal with meddling babysitters, suspicious psychics, a youtube disaster, and their furious father. To solve this mystery, Maddie, Max, and Theo will have to rethink what's possible — and make lots of peanut butter and banana sandwiches.
                                                            Pre-order on Amazon.com    Buy from an indie bookstore
           REVIEWS
Mysterious Monsters: Bigfoot is a cute story with lots of mystery. The kids are curious and eager to learn about whether or not certain 'monsters' exist. There are many teachable moments in this book which is no shocker since it is written by a teacher. I can see younger kids reading this story with a parent and older kids reading this one on their own. Overall I give this book 4 stars.