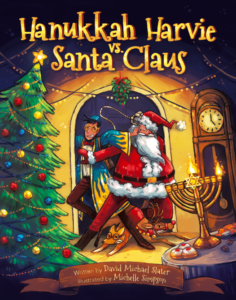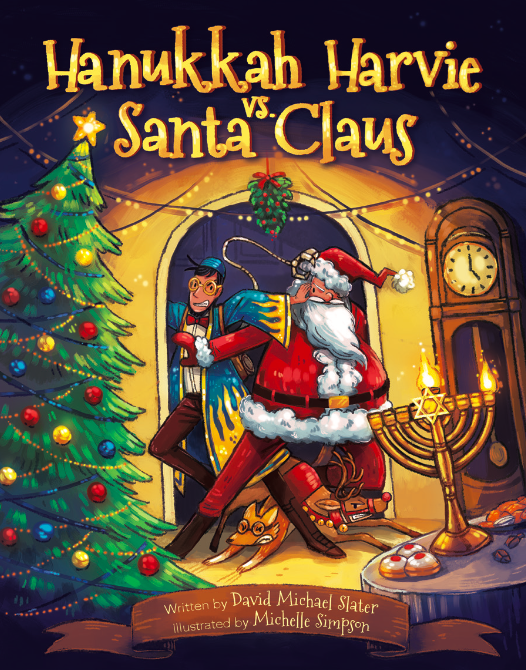 from Library Tales Publishing, illustrated by Michelle Simpson
Everything was going smoothly, a typical first night of Hanukkah. Or so Harvie thought! There was someone else in the house, and he had presents, too—Santa Claus! Hanukkah Harvie vs. Santa Claus is the hilarious and heartfelt story of how two holiday heroes wind up with the greatest gift of all for themselves: friendship.
*Feature in World Religion News
Finally! A holiday tale that is affecting without heaping on the schmaltz. Which holiday heavyweight will outdo the other in bringing  joy vey to the world? If you don't find yourself snickering at Slater's whimsical world of Hanukkopters and other well-oiled contraptions, you are definitely in the menorah-ty!
Dale E. Basye, author of the Circles of Heck Series
"A new holiday tradition deserves a new holiday classic, and David Michael Slater has delivered just that."
David Lubar, Author of Hidden Talents and Sleeping Freshmen Never Lie.
"A new book about Chrismukkah could bring about world peace, but only if you do your part…It's not only for Chrismukkah households: this funny, fast-paced visual delight about the rival gifters duking it out—spoiler alert—until finally they realize they share the same generous-spirited goals (imagine that!) is for anybody who wishes we could all just agree to disagree about the whole God thing, respect each other's choices and get along."
Judith Basya, Literary Editor of Heeb Magazine
"What do you do when your family celebrates both Christmas and Hanukkah? You celebrate Chrismukkah! David Michael Slater has written a delightful story capturing the joy of the holidays with humor and sensitivity. A must read for families of all faiths!"
Penny Warner, Author of the award-winning series, The Code Busters
"This is the most Hanukkool book I've read this year! David Michael Slater is one funny mensch—and Hanukkah Harvie is my favorite new holiday hero."
Bart King, Author of The Big Book of Boy Stuff
"Well, really, folks, when you get down to it, are Christmas and Hannukah really all that different? They are both celebrations steeped in the spirit of love and friendship, and who's to say Loveship can't be found in the combined celebration of both. Harvie and Santa are onto something big! They just kind of make you want to hug everyone."
Graham Salisbury, Author of the bestselling Calvin Coconut Series and Under the Blood Red Sun
"Great fun! I always wondered who brought the Hanukkah gifts."
Eric Kimmel, Author of Hershel and the Hanukkah Goblins
"In celebration of blended families and modern-day cultural, religious and ethnic fusions, David Michael Slater's Hanukkah Harvie vs. Santa Claus has a unique, and refreshingly "real" take on one of the holiday's biggest icons, Santa Claus. By bringing a new player to the game, Hanukkah Harvie, gift giving becomes a cutthroat competition of who can "gift" better to win over those families who celebrate both Christmas and Hanukkah. And the silliness bar is raised with each encounter. Funny. Unexpected. Sprinkled with laugh-out-loud lines, this book reads like a "well-oiled machine," and will no doubt be a new holiday, Christmakkah favorite." 
Heidi Ayarbe, author of Freeze Frame
"One thing I always expect from a David Michael Slater book is an outrageously imaginative story. In Hanukkah Harvie vs. Santa Claus he delivers just that. But he also captures the struggle between competing characters and competing traditions in a way that warms the heart and enlivens the mind. You cannot read this story without wondering what would change in the world if everyone from different traditions could find the same kind of friendship as what develops between Hanukkah Harvie and Santa Claus. We can only hope so. I want every child to have a chance to read this story and be touched by its magic."
 Roy M Carlisle, Advisory Board Member and Editorial Consultant for Relish Media, an imprint of Little Pickle Press
"A book involving the true message of the holidays for families of mixed faiths in today's world has been long overdue, and we hope that "The World's First Chrismukkah Classic" will become a household name. This book captures the essence of finding joy and being with those you love around the holidays regardless of belief."
Danny Foley & Sarah Robinson of Watch for Rocks, Creators of "The Chrismukkah Song"
"At long last: the dueling holidays reconcile as Hanukkah Harvie and Santa Claus discover Chrismukkah. This is the tradition-defining story that every blended family will want to read as they sit beside the Chrismukkah bush amidst an avalanche of presents.
Sage Cohen, author of The Productive Writer