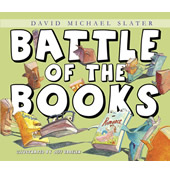 Illustrated by Jeff Ebbeler
"Always Judge a Book by Its Cover" is rule number one of shelf life. But the library's newest editions don't know it! When gorgeous, glossy Paige tries to open up to generic jacket Mark, it's all out war. Can the books settle their differences before the library is torn to pieces?
NOW AVAILABLE as an interactive app/game for tablets/phones from TINY TAP (requires Tiny Tap app) Read by the author!
REVIEWS
There are a number of good things to be said of this work. If you happen to be teaching a child the meaning, use and concept of idioms then this is one of the books to turn too as it graphically covers such idioms as "Recipe for disaster," or "Not much between the covers." Children, at times, have trouble with this concept in literature and indeed, do some adults, in particular those where English is a second language….it is a good teaching tool and kids do seem to enjoy the story and it is quite well illustrated.