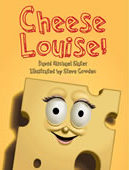 From Whitecap Books, illustrated by Steve Cowden
When Cheese Louise arrives in the refrigerator, she's sure she'll never be chosen. Who would choose a cheese full of holes? But when disaster strikes, Louise must put aside her fears to lead a daring mission. Will Cheese Louise save Humphrey Yogurt before he spoils? Can she outsmart the one-eyed cat in the kitchen? This is the story of the brave cheese who came to the rescue and, at the same time, came to believe in herself.
REVIEWS
The Vancouver Sun
Every bit enjoyable as Green Eggs and Ham…

Quill & Quire
Slater's groceries are full of gum-snapping wit…
January Magazine
It's a charming story intended to entertain and delight… It manages to do both with aplomb.