Flour Girl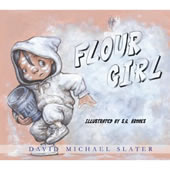 From ABDO Books, illustrated by S.G. Brooks
Sophie and Dad were cooking along nicely until Dad announced he was going to add a new ingredient to the family recipe. He was going to marry Maggie! When asked to be the flower girl, Sophie heard, "Flour Girl!" Now Flour Girl is determined to spoil everything.
Available from ABDO PUBLISHING as a library reinforced hardback and downloadable e-book HERE.
NOW AVAILABLE as an interactive app/game for tablets/phones from TINY TAP (requires Tiny Tap app) Read by the author!