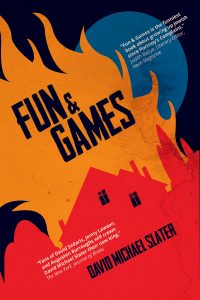 From Library Tales Publishing
The 1980's: it's the time of Dungeons & Dragons, banana clips, and Atari. Jonathan Schwartz is growing up in a family like no other. His sisters, Nadia, the dark genius, and Olivia, the gorgeous tease and temptress, manipulate Jon and his friends for their own entertainment. And his Holocaust survivor grandparents? Their coping techniques are beyond embarrassing. A disastrous visit to Jon's class by his grandmother unhinges his famous father, setting off a chain of events that threatens to send the dysfunctional Schwartz clan up in flames once and for all. Fun & Games is a heartbreaking and hilarious story of faith, family secrets, betrayal, and loss—but it's also a tale of friendship, love, and side-splitting shenanigans.
"David Michael Slater's 1980s coming-of-age story fuses intense family dysfunction with literary intelligence. Mr. Slater throws all kinds of crazy against the wall—and not only does it stick, it works brilliantly…Fans of David Sedaris, Jenny Lawson, and Augusten Burroughs will crown David Michael Slater their new king." –THE NEW YORK  JOURNAL OF BOOKS
REVIEWS
New York Journal of Books
Getting through high school is difficult enough—especially when you're a Dungeons and Dragons geek like Jonathan Schwartz. Add in two sisters who lean toward the cruel and sadistic, a famous father who shuns his Judaism, a Holocaust-survivor grandmother who tells incredibly offensive Jewish jokes, and his father's zealot "inkwhores" showing up at the house begging to be impregnated. Poor Jonathan doesn't have a chance. After a calamitous meeting with the family rabbi, Jonathan's father runs off to Israel to live with an ultra-orthodox sect under the guise of writing a new book. But the family only sees it as abandonment. Shortly thereafter, the Schwartz family train begins to derail. It's a wild and sordid ride to its final conclusion. David Michael Slater's 1980s coming-of-age story fuses intense family dysfunction with literary intelligence.Fun and Games is like a 1980s Jewish version of The Wonder Years, except with more confusion and heightened teenage awkwardness.
Though seemingly a tale rife with the depravity and debauchery of hormonal youth, Fun and Games author Slater deftly balances out the storyline with a deep, dark emotional flair that disguises the heartbreaking truth hovering just below the surface.
Fun and Games is a multifaceted story full of wit, wonder, and blind corners—just like real life—perfectly reflecting the average American family in its many relatable moments followed by sighs of relief. In this very commendable effort, David Michael Slater throws all kinds of crazy against the wall, and not only does it stick—it works brilliantly. Fans of David Sedaris, Jenny Lawson, and Augusten Burroughs will crown David Michael Slater their new king.
Publishers Weekly
Jon is a normal teenager about to start college, but in Slater's novel he finds that he can't move forward in life until he comes to terms with his family's past. While his grandmother is a Holocaust survivor, his father vehemently avoids religion. Jon's two older sisters are a handful: Nadia is a manipulator, with her fingers in everything the family does, and Olivia is toeing the line between virgin and professional soft-porn star. When an incident at Hebrew school sends the rabbi to Jon's house, it precipitates a crisis of faith that causes their father to abandon them for Israel, where he is killed. As Jon departs for college, accompanied by two of his best friends, the lies and intrigues get deeper, and the more he learns about his family, the more he realizes he doesn't know them. When he returns home for a wedding, tragedy strikes and forces the family to reach a reckoning with their lies. The characters manage to be both familiar and well-realized individuals, and beneath the banal suburban setting hide deep troubles…Slater has painted an intimate and memorable family portrait.
Heeb Magazine
*BEST BOOK OF THE YEAR LIST  A Holocaust-survivor grandmother who makes macabre jokes. A famous father whose anti-religious books attract sexually-desperate groupies. Sadistic sisters, an alcoholic mother, an unusually high body count for a novel this funny, and a plot that encompasses Hebrew school, porn producer thugs and a faltering orgy for literary deconstructionists without missing a beat. Even more remarkable, David Michael Slater's Fun and Games is a male coming-of-age story that doesn't rely on shock humor or gratuitous offense for chuckles–it's hilarious because it's tragedy happening to somebody else, a boy named Jonathan, who in terms of teen hormones and bewilderment could have been us…Fun and Games is the funniest book about growing up Jewish since Portnoy's Complaint." –Judith Basya, HEEB Literary Editor
Jonathan Schwartz has a common Jewish name and, one might think, a not uncommon adolescence as he and his friends binge drink and talk about hoped-for sexual encounters with hot girls.
But all is not what it seems in this novel exploring how people of all ages grapple with their identities.
For example, Jonathan's father, a well-known author, rejects religion in favor of rationalism. But his doubts take him to study with an Orthodox group in Israel.
Two of Jonathan's friends wonder about their sexuality, while one of his sisters tries to become a virgin porn star. An older sister feigns disdain for her family, but separation from them is the last thing she wants.
A grandmother, who survived the Holocaust, makes obscene "jokes" about the fate of the Jews under Hitler.
Through it all, Jonathan seems to be the only one without any internal conflicts. As the world goes crazy around him, he is a rock of stability. Girls find his lack of inner turmoil attractive, and just by being his uncomplicated self, he gains a popularity he never seeks.
Humor glues this tale together. It begins with an uproarious scene when the gentle Rabbi Glickman comes to visit the Schwartz household amid the tumult of his sisters' growing awareness of their sexuality, along with the appearance on the sidewalk outside the Schwartz home of a star-struck fan who believes Jonathan's author father is the messiah.
Sexual and alcoholic escapades of teenagers, we are led to believe, are diversions—acts of procrastination, if you will—enabling them to put off, at least temporarily, the painful process of finding out who they really are.