Missy Swiss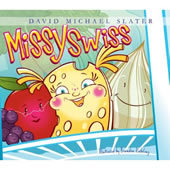 From ABDO Books, illustrated by Brandon Reibeling
Missy Swiss wants to be the Big Cheese in the fridge, just like her hero, Cheese Louise. So when the family goes on vacation, she jumps at the chance to strut her stuff. But the plug gets pulled on her plan in a hurry, and everyone is going to spoil! Will Missy learn the true meaning of hero before it's too late?
Available from ABDO PUBLISHING as a library reinforced hardback and downloadable e-book HERE.
NOW AVAILABLE as an interactive app/game for tablets/phones from TINY TAP (requires Tiny Tap app) Read by the author!