Ned Loses His Head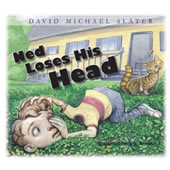 From ABDO Books, illustrated by S.G. Brooks
Some days Ned just can't keep his head about him. He's been known to lose his headgear, headphones, and headbands! His Mom isn't head over heels about that. But that's nothing compared to the day Ned loses his head!
Available from ABDO PUBLISHING as a library reinforced hardback and downloadable e-book HERE.
NOW AVAILABLE as an interactive app/game for tablets/phones from TINY TAP (requires Tiny Tap app) Read by the author!