Ned's Nose Is Running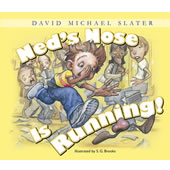 From ABDO Books, illustrated by S.G. Brooks
If Ned doesn't give his report on the common cold, Ms. Nosering will get her nose out of joint. But Ned has a head cold and his nose is running like never before. When it jumps off his face and runs through the school, he knows he's in for it. Can Ned stop his runny nose before he gets a failing grade?
Available from ABDO PUBLISHING as a library reinforced hardback and downloadable e-book HERE.
NOW AVAILABLE as an interactive app/game for tablets/phones from TINY TAP (requires Tiny Tap app) Read by the author!