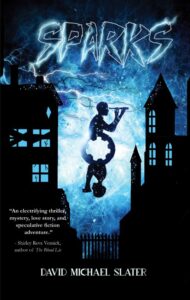 From Regal House Publishing/Fitzroy Books
Releasing 9/4/21
When a homebound seventeen year-old orphan spies on the fairy tale mansion across the road, its sixteen year-old "princess" comes after him, looking for trouble. Before they know it, the pair is on the run, pursued by a seemingly invincible killer, who will stop at nothing to prevent them from discovering the truth about who lives at Wolfgang Law's Great Home for Good Girls and Boys — and why.
*Optioned for film by Jay Lender.
ADVANCE PRAISE FOR SPARKS
Riveting and breakneck, Sparks is an electrifying thriller, mystery, love story, and speculative fiction adventure. Best of all, its diverse characters are vividly evoked in all their wildness, vulnerability, and ferocity of spirit. I was glued to the pages.  
—Shirley Reva Vernick, author of national award-winner, The Blood Lie.
Sparks is stunning and visceral, alive with the journey of self-discovery and the emotional imperatives of loss, first love, fear, and friendship. This absolutely unique novel pushes the limits of creative imagination, illuminating what it means to be different in a world consumed with conformity.
—Alex Poppe, award-winning author of Girl, World, Moxie, Jinwar and Other Tales from The Levant, and Duende.
Sparks kept me entangled in its ever-shifting plot. The twists and turns and escalating tension build to an ending far beyond the reader's imagination. It's a must-read.      
—Melanie Cossey, author of A Peculiar Curiosity    
I devoured Sparks in one sitting. I simply could not put it down–and you won't be able to either.
—Ian Lewis, author of The Ballad of Billy Bean
Wildly imaginative, often poignant, and on occasion, delightfully profane, Sparks is a thrill ride that leaves the reader breathless at the end.  
—Steven Mayfield, award-winning author of Treasure of the Blue Whale and Howling at the Moon.
Ancient mysticism, Nazi atrocities, and unspeakable evils in our time set the stage for this dark and disturbing tale. Readers will find themselves cheering on a pair of unlikely heroes racing to discover the truth about Wolfgang Law's Great Home for Good Girls and Boys.  
—Heidi Marie Ayarbe, award-winning author of Freeze Frame and Compulsion.
Sparks is an ingenious blend of adventure, mysticism, and teenage self-discovery. This is a unique orphan's tale, boasting a vibrant cast of misfits and some truly nasty villains. The story zips along with clever twists, culminating in a dazzling display of sci-fi pyrotechnics. David Michael Slater will enthrall readers with this witty, exuberant tale. 
—Natalie Pinter, author of The Fragile Keepers