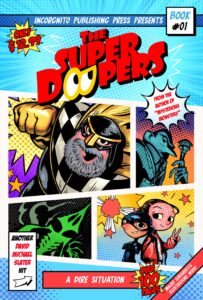 An archvillain is attacking your hometown. SuperHero School has failed miserably, and the heroes have all been vanquished. There's no one left to save you. It's a dire situation.
That is, until the Super Doopers, a family with, well, really odd and slightly disturbing superpowers steps in to try and save the day. It's frightening! It's funny! It's… super!
AVAILABLE August 16, 2022
REVIEWS
The Super Doopers is a high-stakes adventure full of hilarious dialogue, wacky antics, and clever wordplay. Not all heroes wear capes–some, like David Michael Slater, write superduper books.
Bart King, author of side-slapping books like The Time Travel Inn, The Drake Equation, and The Pocket Guide to Mischief 
The Super Doopers is stoopidly doopidly funny!
Jay Lender, Writer/Director of SpongeBob SquarePants & Phineas and Ferb
Packed with action, humor, adventure, and suspense, The Super Doopers is a thrill-ride with a family you'll never forget.
David Lubar, author of Hidden Talents