25 Ideas in Education That Just Don't Work — And How to Fix Them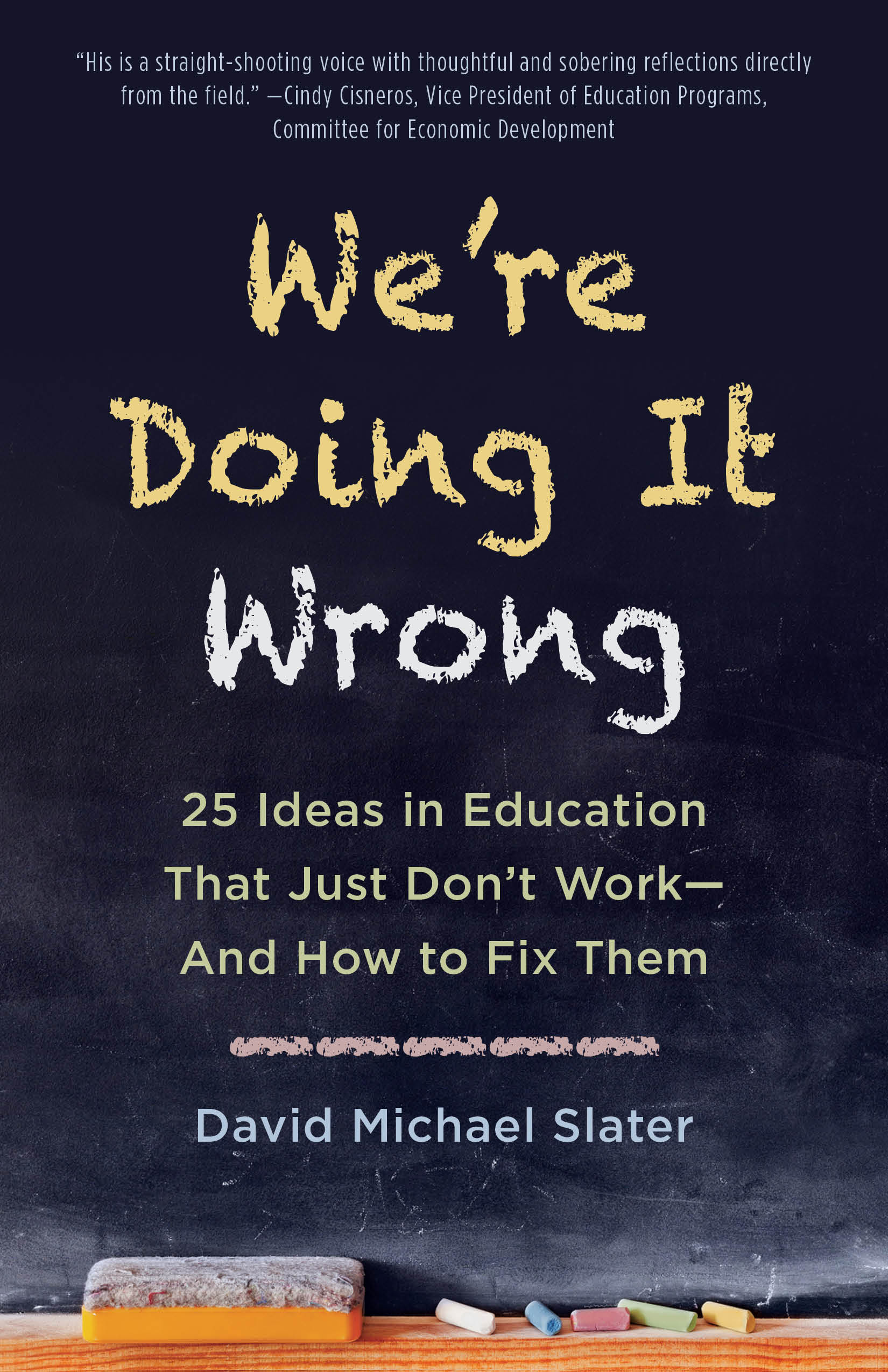 From Skyhorse Publishing
David Michael Slater's We're Doing It Wrong is a thought-provoking dissection of the issues plaguing American public schools. Each chapter identifies a major problem in the education system, exploring its roots and repercussions. A teacher himself, Slater opens up and gives readers an insider's perspective on topics that have been at the center of ongoing debates as well as recent hot button issues, such as: Standardized testing, Teacher evaluation practices, Helicopter parents, Class size, Poverty's effect on performance, Anti-bullying programs, Writing proficiency, and Curriculum goals.
Slater explains why our current approaches simply aren't working―for students, for teachers, for the colleges that these students may eventually attend, and for society at-large. Unafraid to ruffle a few feathers, We're Doing It Wrong highlights defects in policy and theory, calls out administration, and questions long-held beliefs. Every chapter concludes with a suggestion for improvement, offering light at the end of the tunnel. Administrators, teachers, and concerned parents will come away with a better understanding of the current state of education and ideas for moving toward progress―for themselves and for the students they support.
WATCH THE C-SPAN BROADCAST OF THE BOOK LAUNCH!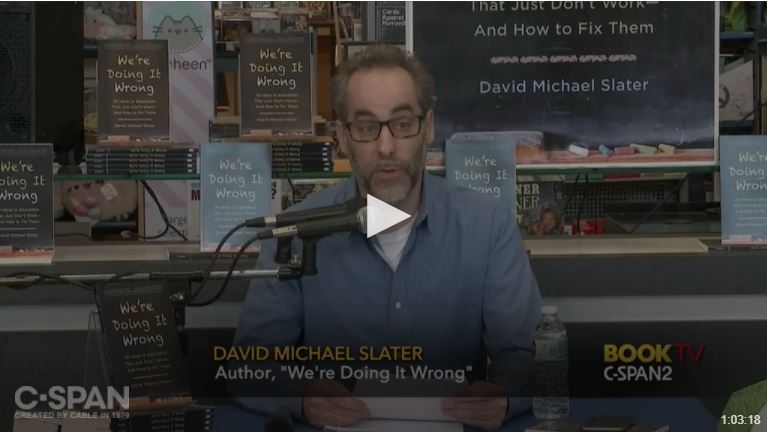 Praise
Master teacher David Slater's book is a masterpiece! It is written in clear and concise prose that has the impact of a sledgehammer as the author dismantles one myth after another. And makes common sense solutions to seemingly intractable problems. "We're Doing It Wrong" is a cogent and concise appraisal of the dismal state of American public education that should become mandatory reading for every concerned parent, administrator, school board member, elected public official, journalist, and self-appointed "expert" who profess to know the easy solution to the failures of our schools. His blunt, no-holds barred assessment of the growing crisis in public schools cannot be easily dismissed. Unfortunately, the fact that he is an experienced and successful teacher will probably disqualify him in the eyes of most educational reformers who have never taught a single minute in our beleaguered schools. This is the most important common sense approach to fixing our public schools that I have ever been privileged to read.
–Richard O. Davies, Distinguished Professor of History, Emeritus, Academic Vice President of University of Nevada, Nevada Professor and Researcher of the Year, Dean of College of Public Service at Northern Arizona, Former President of University of Northern Colorado, Nevada Writer Hall of Fame inductee
David Slater's book should be required reading for the new President and Congress. His is a straight-shooting voice with thoughtful and sobering reflections directly from the field. We need to heed the compelling insights and solutions laid out in his new book about our system of education.
–Cindy Cisneros, VP of Education Programs, Committee for Economic Development
It is perhaps no surprise that in an age of ideologically polarized educational research and politics—matched with a widespread disrespect for teachers and public schools—a book of such straightforward sanity as this one needs to be published and read widely. It will miff people at the poles of opinion, but it is thoroughly supported by empirical research and experienced teachers' craft knowledge.
–James Paul Gee, Mary Lou Fulton Presidential Professor of Literacy Studies & Regents' Professor, Arizona State University Member, National Academy of Education
From the moment I started reading David Slater's We're Doing It Wrong: 25 Ideas in Education That Just Don't Work – And How to Fix Them, I thought, "WOW….this guy really gets it!" His experience as a teacher gives him the unique ability to connect with his readers in order to help them reflect on the challenges we face as educators and in education today. Not only that, but he also provides thought provoking solutions to those challenges. It would benefit every teacher, administrator, school board member, parent and legislator to read this book. While I didn't necessarily agree with every solution, I found myself being able to reflect on my own teaching practices and beliefs in order to help me think about what I can do in my own classroom to help my students be successful. This is a book anyone involved in education must read!
–Shelly Vroegh, 2017 Iowa Teacher of the Year
With the perspective of a School Counselor, I am inspired by David's empathetic and unapologetic acknowledgement that our choice of educational transformation must honor human interaction and encourage passion.
–Joe D. Genasci, NCC NCSC, President and CEO GuidEd Fusion Inc.
If you want a book with fresh ideas on perennial issues in education that are commonly and deeply misunderstood, David Slater's We're Doing It Wrong is a relentless page-turner. Everything old is reinterpreted with new understandings and invitation to act differently: school choice, merit pay and accountability, scripted curriculum, high needs parents, sage or guide, tenure, and 19 other ideas are sliced and diced in new ways. This is a 'makes you think' treatment of major myths and education conundrums—read it, think and act differently.
–Michael Fullan, Professor Emeritus, University of Toronto
Trust me, after you read Idea # 1, you will know that David Slater understands educators and the problems that we face every day. After working for twenty years in education and being force-fed professional development, I finally found a book that I can relate to, ascribe to, and wholeheartedly hand to a colleague without reservations. It is rare that you find a book that contains a "no nonsense" approach to the problems that are prevalent in our profession and solutions that offer a light at the end of the tunnel. A must read for educators in our turbulent educational climate!
–Brita Scott, La Grande Education Association President, Eastern Oregon Uniserv Council President
Educators and those who believe that educating America's children is the path to a better future for everyone will find this book insightful, helpful, well-written, and thought-provoking. Every school board member in the country should read this book and start a community discussion about where education goes from here and how we move from a system that fails too many to one that truly serves the needs of children, educators, and the world.
–Leigh Anne Jasheway, BA, MPH, Instructor at University of Oregon School of Journalism and Communications and recipient of the Erma Bombeck Award for Humor Writing
Occam's razor states that "…other things being equal, simpler explanations are generally better than more complex ones."  It is with this straight and to the point thinking and analysis, combining actual experience and observations with a common sense approach, David Michael Slater's solutions address the core problems facing our educational systems. These are not political solutions full of sound bites and headlines, rather approaches that are basic and full of promise. I encourage not only educators and leaders to read this book, but also all policymakers and anyone else concerned or connected to our educational system. We need to remember that complex solutions are not always better. Simple is just as elegant—especially when they work.
–Robert O. Davies, Ph.D., President, Murray State University
David Slater's We're Doing It Wrong: 25 Ideas in Education That Just Don't Work – And How to Fix Them revisits territory that David Berliner and Gene Glass and their associates explored in 50 Myths and Lies That Threaten America's Public Schools. Rather than drawing primarily on research studies, however, Slater uses his own extensive experience as a teacher to challenge ideas and practices he's encountered during his 20 years in the classroom. The result is a personal, accessible, and at times maddening book about the bad thinking that has invaded far too many schools and how we might move beyond it to create more supportive learning environments for today's students and their teachers. Although you might not agree with all of Slater's solutions, you'll find this book a provocative antidote to the educational "deform" movement and its well-heeled advocates.
–Gregory Smith, Emeritus Professor, Graduate School of Education and Counseling, Lewis & Clark College
David Michael Slater puts the conventional wisdom on education under a microscope and finds much of it wanting. Although I occasionally disagreed with some of his conclusions, more often than not I was appreciative of his clear, direct analyses and their implications. David's criticisms of age-based grading, our lack of attention to writing, overprotective teaching and parenting, and indefensible school start times especially resonated with me. I found insights on every page of this concise, engaging book.
–Jonathan Plucker, PhD, Author of Intelligence 101 and Julian C. Stanley Professor of Talent Development at Johns Hopkins University
In David Michael Slater's We're Doing It Wrong: 25 Ideas in Education That Just Don't Work – And How to Fix Them, many issues that teachers and students face today are addressed with possible solutions offered.  Although no one child, teacher, or school faces all these problems at once, these issues are nevertheless important to consider. Some ideas will take total revamping of our current system and others have easier fixes.  However, all require contemplation of anyone involved in public education, from parents to school boards to district and school administration to teachers and students.  When given that wide spectrum of participants, addressing these issues really becomes the opportunity of every person who lives in our society.  Thomas Jefferson wrote, "Educate and inform the whole mass of the people…The only sure reliance for the preservation of our liberty."  I would add, it behooves us to do this with the best methods possible.  Slater's book is a step in the right direction towards improving education of the next generations.
–Pam Ertel, 2017 Nevada Teacher of the Year
As a former classroom teacher from a large urban school district, I found myself nodding in agreement with much of David's analyses of what is keeping America's public schools from reaching its full potential. The book is deeply honest, compelling and real and should be read by every education policymaker, leader, teacher and community member. David highlights many of our schools "fixable" problems and offers the makings of sound solutions. But first, we must dare to commit to actualizing the quality public education those on the frontline know is possible with adequate resources and support. Thank you David for this provocative call to action.
–Dyan Smiley, Education advocate
With a passionate voice, David Michael Slater identifies the challenges we face in education and addresses them one by one. His words encourage the visionary administrators and courageous teachers who meet these challenges head-on, and they provide a starting point for others to activate conversations that move education forward. David's guidance is essential, but not exhaustive—our approach to the future of education depends on the creativity of those who care deeply about the future of our communities.
–Jayne Ellspermann, President, National Association of Secondary School Principals, National Principal of the Year, 2015
Education is ripe for a change. If we continue down the same path we've followed for decades, we'll fail in preparing students for a constantly changing workforce and an unpredictable future. David Michael Slater provides an inspiring, useful blend of 30,000-foot flyovers and boots-on-the-ground practical ideas. Any stakeholder in education — teachers, parents and especially policymakers — will benefit from his vision and suggestions.
—Matt Miller, Teacher, Speaker, and author of Ditch That Textbook
David Slater does quite an impressive job of writing in a perspective that all teachers can relate to. The content of this book is on target to the plethora of concerns that all classroom teachers have. Slater shares 25 pertinent strategies that are critical to successful classrooms and effective teaching. His problem/solution approach is a progressive step toward a more adequate education for all. As an educator, I am grateful to see these vital concerns addressed by a classroom teacher. If we want to see changes in education, we have to speak up. Slater shows no hesitation in letting his voice be heard. This is a must read for any educator that is looking for change.
—Joni Smith, 2017 Louisiana Teacher of the Year
As I read through We're Doing It Wrong, I recognized many of my own observations amassed over nearly 50 years in the field. One of the most amazing ideas is in the opening words, "Everyone blames teachers." How strange to read these words after growing up in the 1950's and 1960's when teachers were revered for their talents and contributions. The world has clearly changed in the last few decades. Slater's initial four ideas encapsulate many of the changes in our society that have interfered with the delivery of a quality education in our public and private schools. We must take note of the 25 issues that he highlights as we move forward in addressing the future of our schools and the educating of our children and youth in the 21st Century.
—Paul A. Flexner, Instructor in Educational Psychology, Georgia State University, Co-editor of What We NOW Know About Jewish Education, winner of the National Jewish Book Award
From the lack of diversity among teachers to the critical need to involve teachers in policymaking decisions, David Michael Slater has succinctly addressed the major problems plaguing public schools today, along with possible solutions. This is a must-read for everyone from educators, to parents, to politicians. To use Slater's words, the solution to our problems lies not within a strategy or technique, "it is, and always has been, the teacher."
—Courtney L. Cochran, 2017 Arkansas Teacher of the Year
As someone who has provided workshops in hundreds of schools or school districts and who has had the opportunity to listen to the frustrations, rewards, joys, and insights of countless teachers, I was immediately captivated by David Michael Slater's We're Doing It Wrong. It is rare to find such a passionate, articulate, honest, insightful book about our educational system. His description of different educational beliefs and practices that are counterproductive and that serve to undermine rather than enrich the process of teaching and learning, are thought-provoking. The fact David has served as a middle and high school teacher and been recognized for his work as an educator, adds even greater credibility to his understanding of what is transpiring in our schools. Each of the 25 "wrongs" and David's "solutions" to these wrongs deserve to be carefully considered. Similar to myself, not everyone will agree with all of David's solutions, but whether one agrees or disagrees is less important than his inviting us to engage in a dialogue about how best to address the problems he identifies. I hope that this book will be read by those just beginning their careers as teachers and administrators as well as those with years of experience. It deserves as far-reaching an audience as possible.
—Robert Brooks, Ph.D., Psychologist and faculty (part-time), Harvard Medical School, Co-author: Raising Resilient Children and Creating Sustainable, Resilient Classrooms
Drawing from years of experience in the classroom, David Michael Slater explores how bad ideas find their way into classrooms and negatively impact learning. He highlights the danger of allowing people with little, to no, training or experience in the field of education to make decisions that directly impact our schools. This is particularly timely in our current political climate. Slater shines a light on important issues like the role of students in the classroom, the presence of advertising in schools, the inequity of traditional homework, and the impact of class size. This book opens the door to important conversations about education and how we can improve learning for all students.
—Catlin Tucker, Teacher, International Trainer, Speaker & Bestselling Author ​
David Michael Slater's We're Doing It Wrong calls a spade a spade. Addressing a plethora of issues that impede students, teachers, and our educational system in general, he provides ideas for solutions — albeit often idealistic ones — with candor, humor, and creativity. It is refreshing when educators offer ideas for change, rather than simply deriding the status quo. While not all answers may work in every context, readers will discover some that could work anywhere.
—Dr. Carrie Geiger, University of Florida College of Education, P. K. Yonge Developmental Research School
Slater articulates the importance of teacher quality and effectiveness. This book is timely in the world of education today.  As an administrator in an elementary building, I know how critical it is to have teachers that are effective.  I have said for many years that teachers are the most important factor in student success.
 —Melissa Herek, 2016 Wisconsin Elementary Principal of the Year
The well-intentioned but misguided Educational Reform movement with its attempt to reduce student learning to data would do well to read David Michael Slater's book, We're Doing it Wrong. "Teacher proofing" curriculum, lessons, and outcomes is an ironic effort considering that the reformers are insisting that a great teacher is the key to learning. David is clearly a great teacher and doesn't feel the need to be "proofed." The book is distinguished, however, by his insistence that all myths and mistakes be examined, not just those of a misinformed reform movement. As educators we have to examine ourselves and he makes it clear that we are not aided in this by merit pay, attacks on tenure, overemphasized testing, and pay for test scores. His focus on solutions makes his book a must read for teachers and reformers alike. The fact is that teachers are the most effective reformers and he wants the way cleared for them to be the best that they can be.
—Frank T. Lyman, Jr. PhD, Co-author of The Shaping of Thought, author of ThinkTrix, and inventor and co-developer of the Think Pair Share and ThinkTrix strategies.
>In a period in which far too many books about what education policy should look like are written by "experts" with no actual expertise in schools, David Michael Slater's We're Doing It Wrong provides a refreshing and much-needed dose of common sense. Slater's dozen-plus years of classroom experience (and his excellent writing) shine through from his clear-headed depiction of the devastating impacts of poverty on students and their teachers and peers to his no-nonsense take on using standardized test scores to evaluate teachers. And you don't have to agree with his perspective on specific issues to appreciate his reliance on real, rather than cherry-picked, evidence. My biggest regret, after reading it, is that he didn't write this book earlier, and that it thus didn't have the chance to influence policymaking over the past decade.
—Elaine Weise, National Coordinator for the Broader Bolder Approach to Education
David Michael Slater brings his 18 years of teaching into the writing of this book and sees the problems facing education as insider. He has a lot to say about today's educational "improvements." In this well-researched, well-written and well-thought-out book, he shows why these improvements do not improve the performance of schools or students. David clearly and succinctly describes what's not working and then provides reasonable, cost-effective solutions to correct the problems. This is a vital book for anyone interested in improving education – policymakers, politicians, business people, educators, parents or students.
—Franklin Schargel, author, consultant, former classroom teacher, school counselor, school administrator.  Winner of the 2016 "Hero Award" from Auburn University.
If you are a passionate about the future of education, 'We're Doing It Wrong' is a must read! Educators and communities everywhere are suffering under the systemic problems that have plagued our flawed schools for generations, and David Michael Slater offers many simple solutions and interesting anecdotes for these deep-rooted problems. In his book, Slater manages to be the voice of effective educators around our country who work in a system that is managed by a disconnected hierarchy, lacks funding, and is in need of an extreme transformation. Some of the controversial solutions he offers focus on policymaking, curriculum, the national teacher shortage, helicopter parents, merit pay, and differentiation. This book of hot-button issues and solutions should be read by school board members, parents, principals, and government officials in order to immediately begin radical change.
—Sarah L. Breckley, 2017 Wisconsin High School Teacher of the Year, IIE AIFS Foundation Generation Study Abroad Fellow
When it comes to improving educational outcomes for kids, there's no shortage of opinions, quick fixes and experiments that just haven't worked. Slater's We're Doing It Wrong is a refreshingly honest and to the point review from a teacher's perspective – an important voice often drowned out by the drone of the experts and policymakers. Slater offers a wake-up call and a reminder that while school systems continue to take one step forward and two steps back on the road to reform, children, especially our most vulnerable ones, pay the price.
—Kwesi Rollins, MSW, Director of Leadership Programs, Institute for Educational Leadership
In his new book, David Michael Slater tells it as he sees it — from the front line as a middle school teacher.  In straightforward, accessible, writing, he shows how people with no training in education are setting education policy in ways that de-professionalize teachers and prevent them from practicing their art for the benefit of their students.  Mr. Slater shows how bad policy creates misery for both teachers and students, and proposes ideas for how we could be doing it better in areas as varied as class size, testing, and gifted education (and many more).  Even if you don't agree with every one of his proposals, you would be well-served by considering them.  As a society, we could do much worse than to pay attention to Mr. Slater's warnings. This is required reading from a thoughtful, truthful, and articulate teacher.
—Faith Boninger, National education policy expert
In the spirit of Sir Ken Robinson, David Michael Slater explores how the current education system weeds out our most creative educators and leaves students unable to reach their full imaginative and innovative potential.  Creativity is a core cognitive skill needed across industries. If we do not train teachers and students in creativity and creative problem solving, we leave them unprepared for this ambiguous, complex, and fast-changing world.  Slater makes the case for creativity, and we couldn't agree more.
—Beth Miller, Executive Director, Creative Education Foundation
In We're Doing it Wrong, David Michael Slater distills some of the most pressing issues in education into easy-to-read common sense arguments. From the indispensable perspective of a seasoned teacher and caring citizen, Slater allows any reader (with our without educational experience) to understand not only why misguided ideas and quick-fixes have managed to continuously find their way to real classrooms, but also why they seem to be so persistent. This is a must-read for anyone who is interested in exploring the quandary that education has found its way into, and what hope we, as citizens, may have in helping to get it out.
—Eric Shyman, author of Vicious Circles in Education Reform and Reclaiming our Children, Reclaiming our Schools.
An innovative and necessary book, which I believe will speak to many teachers.
—Dr. Antonia Darder, Leavey Presidential Endowed Chair in Ethics and Moral Leadership
Loyola Marymount University, Los Angeles, School of Education