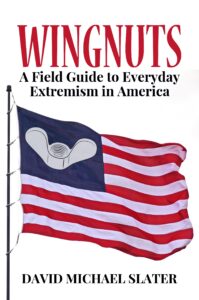 Do NOT read this book if you want your passionate convictions admired or your enemy's stupidity mocked. Do NOT read this book if you have emotionally charged reactions to hot-button topics like trigger warnings, cancel culture, patriotism, internet thought police, and gun control. But if you ARE ready to think rationally and calmly about the opinions you hold as well as those held by your antagonists, it's time to read Wingnuts. Pithy, humorous, and chock-full of shockingly commonsense wisdom, David Michael Slater strikes blow after devastating blow against the unreasonable thinking that now dominates our most critical political & cultural conversations. Conservatives and liberals, righties and lefties, Democrats and Republicans, all come in for an equal-opportunity flogging in this book on political freedom. In it, Slater identifies forty vitally important social ideas and compellingly articulates how and why they've been hijacked by three types of extremists. If his clarion call for a return to compromise in "the radical center" inspires enough people, it might just save democracy itself.
PRAISE FOR WINGNUTS
This is a delightful book, and I encourage the very few Americans who still have half a brain left to buy it immediately.
Morris Berman
Author of Why America Failed, Are We There Yet? and other works
Bad thinking and unreasonable opinions are awarded more credibility now than at any time in recent history. Slater's book is a vital corrective to all manner of extreme and ill-conceived views of the political right and left. It should be required reading on every college campus and in the editorial offices of Fox News and MSNBC.
Steven Schier
Congdon Professor of Political Science, Carleton College
Coauthor of Polarized: The Rise of Ideology in American Politics
It is hard to read this book without smiling in recognition of the commonsense wisdom packed into every short chapter (and the nuggets of humor sprinkled throughout). As an open liberal, I had no trouble identifying with Slater's perspective. And while it was more difficult to hear my "own" side critiqued for cultivating extreme versions of what used to be good ideas, it felt ultimately like welcome medicine. Just as important, it is a book that I could see my conservative counterpart appreciating just as much. In Wingnuts, Slater offers a timely framework for better understanding both our own biases in articulating ideas and helpful ways to understand those of our ideological "enemies." Perhaps just as important, he gives us hope that these important social ideas need not be ruined – we can still rescue them – and pathways to do so.
Elaine Weiss, education policy expert
JD, Harvard Law School
PhD, George Washington University Trachtenberg School
In brave fashion David Michael Slater shines a spotlight of wisdom on the tyranny of the extremists, opportunists, and revengers, those people who too often overrule our nation's centrist majority. The logic offered here is a needed corrective for our highly polarized society.
Roger Chapman
Professor of History, Palm Beach Atlantic University
Editor of Culture Wars: An Encyclopedia of Issues, Viewpoints, and Voices
Aristotle once proclaimed that, 'Any virtue, carried to extremes, becomes a vice.' Well, carry that idea forward a few thousand years, fail to heed its simple warning, and what you have is our modern, hyper-polarized cultural rot. Need relief? Wingnuts breaks it all down for you in a way that allows you to screw your head back on straight.
Dr. Bonnie Kerrigan Snyder
Author of The New College Reality and The Unemployed College Graduate's Survival Guide.
David Michael Slater's Wingnuts is a desperately needed dose of rational thinking in a world slowly losing its mind. The adults responsible for the mess we're in will probably hate it, which is why it should be assigned reading for every high school and college student who can read—and for anyone else who can be inoculated before it's too late.
Philip Carl Salzman, Professor, McGill University
Author of Classic Comparative Anthropology
David Michael Slater's provocative new book Wingnuts aims to disrupt the echo chambers on both the left and the right—helping both sides to re-examine their beliefs.  In this age when liberals and conservatives can't even seem to speak to each other, hopefully Wingnuts will be just disruptive enough to provoke constructive conversations on these important issues.
Kevin M. Esterling
Author of The Political Economy of Expertise
Many good ideas get taken to absurd extremes. In this entertaining and provocative little volume, David Michael Slater takes up and evaluates 40 ideas that started off with promise but eventually went off the rails. There's something to amuse, and enrage, just about everyone here – left and right, students and teachers, young and old. Most important, this veteran teacher highlights the importance of thinking clearly about, rather than reacting viscerally to, complex contemporary social and political issues.
Jeffry Frieden, Professor, Harvard University
Author of Currency Politics
Wingnuts tackles a wide range of flashpoints in modern American culture with wit, intelligence, and insight. Anyone who has ever read an internet meme that sounds almost plausible, who hears a story on the news and wonders if it can be right, or who has an uncomfortable conversation with a family member or friend who confidently asserts ideas that seem highly improbable or downright weird—this is the book for you. 
Scott E. Hendrix, Ph.D., Associate Professor of History, Carroll University
At a time when Enlightenment values—free expression, open-mindedness, reason, and reasonableness—are under attack everywhere in America, David Michael Slater shows us not only why they still matter, but why only they can save us as a democratic society. Before you spend another moment on social media or watching CNN, Fox, or MSNBC, read this book.
Jerald Podair, Professor of History and Robert S. French Professor of American Studies,
Lawrence University
Co-Editor, The Routledge History of the 20th Century United States
David Slater's Wingnuts brings the levelheaded approach we all crave to the difficult issues of our time. His systematic and rational review of each of these issues is more than a breath of fresh air (although it is most definitely that!). It may also be just what the rest of us need to help us reject knee-jerk extremity and engage in reasonable discourse.
Faith Boninger. Research professor, University of Colorado Boulder
Author of Sold Out: How Marketing in School Threatens Children's Well-Being and Undermines Their Education