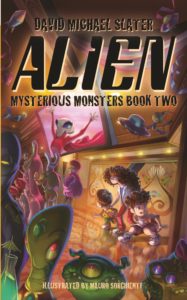 from Incorgnito Books
With Bigfoot safely stashed in their basement, Maddie, Max, and Theo Mattigan are off to Las Vegas with their dad. His plan is to prove there are no aliens on the loose there. But now that his kids know that Mysterious Monsters are real, they're making plans of their own. They'll need clever disguises, well-hidden walkie-talkies – and more than a few broken eggs – to find out, once and for all, what's hidden in the notorious Area 51.
REVIEWS
The Mattigan kids are at it again in this sequel to author David Michael Slater's first book, Bigfoot. But instead of hunting a mythical forest-dweller, this time the trio is on the lookout for escaped alien, J-Rod, who makes his way from Area 51 to an extraterrestrial convention in Las Vegas, where the Mattigan family happens to be vacationing. This smart, funny, fast-paced illustrated chapter book will keep your early grade school kids giggling this summer.