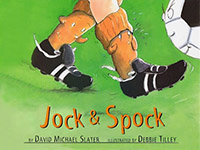 Illustrated by Debbie Tilley
Jock and Spock, a pair of sock brothers, were never more than a foot apart. That is, until the day Jock was thrown into the wrong wash, bleached, and tossed out! This is the story of the socks' hilarious struggle to reunite. You'll never look in your sock drawer in the same way again.
NOW AVAILABLE as an interactive app/game for tablets/phones from TINY TAP (requires Tiny Tap app)
REVIEWS
School Library Journal
A whimsical story about a pair of orange sock brothers…With Slater's text providing many opportunities for sound effects in the storytelling and Tilley's large cartoons perfectly capturing the nuances of the character's expressions, this book makes a good choice for storytimes on feelings and dealing with separation anxiety.
Sound Book Review Council
…The story is sweet and earnest about topics like separation and caring, and at the same time both the text and the illustrations are full of clever little jokes and details that older kids and adults will love to catch.
Pittsburgh Magazine
Kids and their adults will enjoy this story of brother, rather, sock-erly love.
Yellow Brick Road
[The sock brother's] fierce loyalty and clever problem solving finally lead to a satisfying conclusion.